Microblading, Powder/Ombre, Blade & Shade and Combo Brows Fayetteville, NC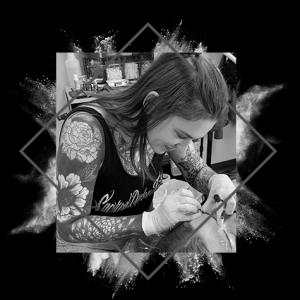 Microblading Eyebrows – Sacred Raven Tattoo, Piercing & Microblading
North Carolina native, Anna McDowell, is the microblading specialist aka microblader for Sacred Raven Tattoo & Piercing in Fayetteville, NC. She has been with us for two years and provides services and resources for the microblading community online (what is microblading, microblading eyebrows vs microshading, ombre powder brows healing stages). If you're searching for the best microblading near me in Fayetteville, visit our shop or learn more about microblading, ombre brows, and combo brows to discern what's best for you. "Microblading eyebrows is a semi-permanent technique that adds pigment to the skin beneath your natural brows, and helps shape, define and add fullness to your eyebrows." Microblading and eyebrow services are gender neutral and both men and women benefit from designing and/or restoring their eyebrows from thin hair or alopecia. Anna and our team look forward to serving you at our state of the art tattoo shop in Fayetteville!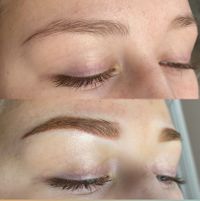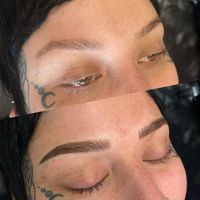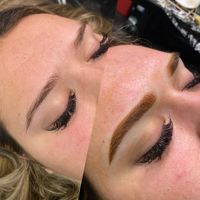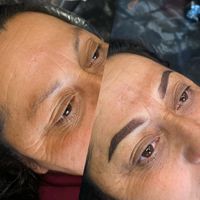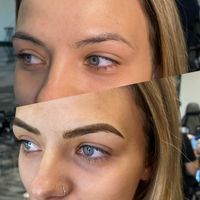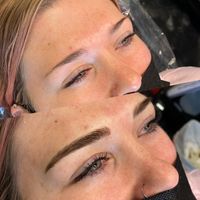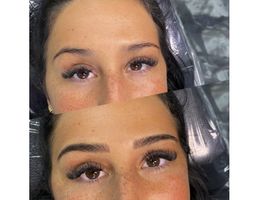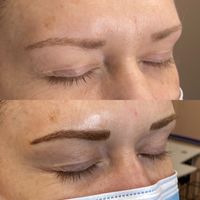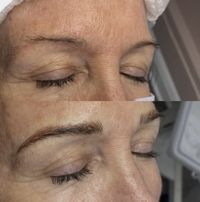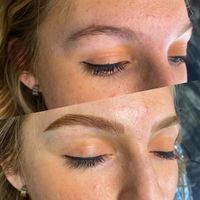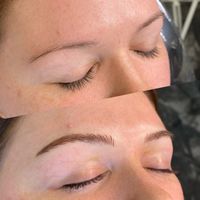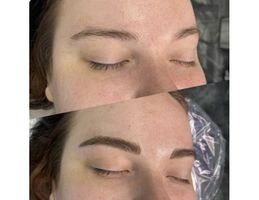 Microblading Eyebrows Chart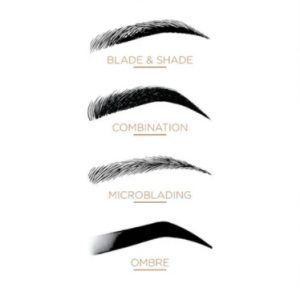 Choose Your Microblading Eyebrows Style
What is the difference between Microblading eyebrows, ombré brows, blade & shade, and combination?
Microblading eyebrows
is the process of using a very small set of needles to make tiny cuts in the skin, in which pigment gets deposited into the skin, mimicking individual hair strokes. Microblading is the more natural of the two procedures and is typically more suitable for those with dry/ combination skin. It can be done on oily skin however it is more likely you will need a touch-up before a year. Note: Microblading can only be done about 4-5 times (depending on skin type) before being recommended to switch to ombre/powder brows.
Ombré brows
(also called shaded and powder brows) involves using a tattoo machine to shade the brows in creating a look that is most similar to filling brows in with makeup. The look is typically quite soft once healed and takes a lot of time out of your daily routine. Powder brows or ombré brows are typically most suitable for all types of skin including mature skin. This technique could be done more subtle or more dramatic depending on the desired look. Shaded brows are also optimal for those with previous work.
Combo brows
are a combination of both microblading and ombré brows techniques with the first few strokes being microbladed and the rest of the brow is shaded in with a machine.
Blade & Shade brows
is another combination of both microblading and powder brow techniques, sometimes called "the ultimate brow treatment" because it combines the best of both styles and creates a natural and defined eyebrow with spot shading between the eyebrow strokes.
Note: the two combo options create a denser brow for those who want more coverage than hair-like strokes.
How Much Does Microblading Cost?
$400 to $600. The initial session is $400 and the 6-10 week touch-up is included. For annual touch-ups, it is $200.
Not Everyone will need an annual touch-up. The initial session should be about 50% faded before the "annual" touch-up is done.
**Correction/ Coverups are priced individually and require a consultation before booking.
How long will microblading (i.e. my cosmetic tattoo) last?
Cosmetic tattoos are semi-permanent and require 2 sessions to achieve the best results. After the initial first session, a touch-up is required about 6-10 weeks after. Once the brows heal up they should last about a year- 3 years depending on aftercare and general upkeep. Once they start to fade a year or more in, we are able to do an annual touch up in which they will last another few years depending on skin type and aftercare. If you decide against the annual touch -up they will fade out very naturally.
How long is a microblading appointment?
Every appointment has a 3-4 hour window just to make sure we have enough time to perfect everything! Numbing cream is used throughout the whole procedure making the pain very minimal if felt at all!
Is microblading safe for your eyebrows?
Yes. Microblading is safe and can be a boon for those who want to define and enhance their eyebrows. Especially for those with thin, sparse eyebrows, or alopecia, microblading can be empowering and, in some ways, life-changing. The major critique of microblading is not safety-related, but the longevity of the semi-permanent tattoo that makes immediate removal impossible and requires laser sessions. That said, even if you're reshaping your eyebrows with microblading, there is no lasting effect on the way your natural hair grows, and depending on your skin type, skin care, and whether you've chosen to get touch-ups, microblading can fade in as little as 18 months.
Is microblading for men?
Yes, microblading for men is equally valuable as eyebrow services benefit both men and women for designing your own brows or restoring your eyebrows from thin hair or alopecia. Male microblading offers men several different ways to style their eyebrows for semi-permanent natural brows that shape, define and add fullness to your eyebrows.
Who doesn't qualify for a permanent makeup procedure?
If you are pregnant or breastfeeding, currently in the midst of chemotherapy and/or radiation within 6 months, are on blood thinners or antibiotics, coming in with a sunburn, have been on Accutane within 1 year, or have rosacea, then permanent makeup is not yet right for you.
How do I prepare for my microblading procedure?
2 weeks out:
NO filler/Botox
NO laser/chemical peels
NO antibiotics
NO self tanner/tanning beds
NO retinol, acid skincare, AHA, Retin-A
NO microdermabrasion/dermaplanning
72 hours before:
NO scrubs
NO waxing/tinting/ threading/ blood thinner
NO fish oil/Vitamin E
48-24 hours before:
12 hours before:
NO caffeine
NO working out
Directions to Sacred Raven Tattoo | Our Fayetteville Ink & Piercing Shop in Fayetteville NC
We make walk in tattoos and piercings easy. Many tattoo shops in Fayetteville make you book in advance. At Sacred Raven Tattoo you can walk in anytime from 12p to 9p - seven days a week. Click on "Directions" below the map or if you'd rather schedule for another day, fill out your booking deposit above. We'll see you soon.